Altium
Engineering Software · California, United States · 800 Employees
Founded in 1985, Altium provides PCB design software and tools with a fully integrated editor for schematics used by engineers who design printed circuit boards. Altium is headquartered in La Jolla, California.Read More
View Company Info for Free
Who is Altium
Headquarters
4225 Executive Sq L 7, La Jolla, California, 92037, United States
Phone Number
Website
www.altium.com
Revenue
Stock Symbol
Industry
Engineering Software
Software Development & Design
Software
Popular Searches
Altium Ltd
Altium Inc
Altium
Altium LLC
Altium Group LLC
SIC Code 73,737
NAICS Code 51,513
Ticker ASX: ALU
Show More
Top Competitors of Altium
1

2

3

4

5

6
Products Owned by Altium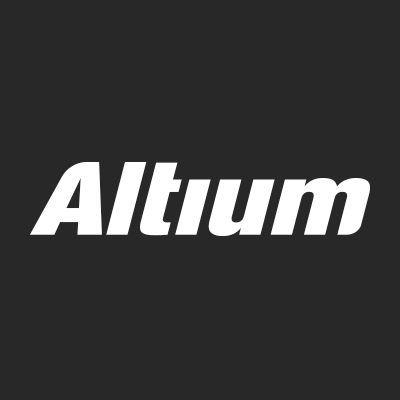 Altium
See more technologies
Altium Company Metrics
Company Insights
Employee Growth Rate
Acquisitions & Subsidiaries
See More Acquisitions & Subsidiaries
Top Companies in United States
Top 10 companies in United States by revenue
Top 10 companies in United States by number of employees
Top 10 companies in United States by total funding amount
See top companies
Frequently Asked Questions regarding Altium
Where is Altium located?
Altium's headquarters are located at 4225 Executive Sq L 7, La Jolla, California, 92037, United States
What is Altium's phone number?
Altium's phone number is (858) 864-1500
What is Altium's stock symbol?
Altium's stock symbol is ALU
What is Altium's official website?
Altium's official website is www.altium.com
What is Altium's Revenue?
Altium's revenue is $263 Million
What is Altium's SIC code?
Altium's SIC: 73,737
What is Altium's NAICS code?
Altium's NAICS: 51,513
How many employees does Altium have?
Altium has 800 employees
What industry does Altium belong to?
Altium is in the industry of: Engineering Software, Software Development & Design, Software
What is Altium competition?
Altium top competitors include: SolidWorks Corp, Engineering Technology Associates, Wind River AB, Milwaukee Electronics Corp
What companies has Altium acquired?
Altium has acquired the companies: Ciiva, Upverter, Octopart, Morfik
What technology does Altium use?
Some of the popular technologies that Altium uses are: Shopify, Salesforce Commerce Cloud, OpenX Ad Exchange, PubMatic
Who is the CEO of Altium?
Altium's CEO is David Burke
How do I contact Altium?
Altium contact info: Phone number: (858) 864-1500 Website: www.altium.com
What does Altium do?
Founded in 1985, Altium provides PCB design software and tools with a fully integrated editor for schematics used by engineers who design printed circuit boards. Altium is headquartered in La Jolla, California.... Read More
What are Altium social media links?
Altium Linkedin page Altium Facebook page Altium Twitter page
Is Altium a public company?
Yes, Altium is a public company and is traded under the symbol ALU