Informatika
Advertising & Marketing · Serbia · 3,677 Employees
INFORMATIKA is dedicated to developing long-term partnerships when it comes to client relations. They are based on satisfying the users' needs at all stages of the service provision chain - from identifying all of the applicable legal and other requirements and committing to their satisfaction, to providing maintenance for the delivered products. Here product quality, the quality of communication with the client, and ongoing assistance are key for clearly defining their needs and requirements and so that products can be used in accordance with their intended purpose. The quality of the company's products is based on long-term partnerships with suppliers. The achieved market recognition and good reputation are maintained by the commitment and obligation of all employees to the constant improvement of their knowledge, awareness and high expertise in both the field of quality, environmental protection and information security, as well as to providing mutual assistance to each other in training. Teamwork, fast horizontal and vertical communication, a sense of belonging within the company, commitment to a common goal - the high quality and long-term satisfaction of users and the building of their trust in INFORMATIKA and its employees, are parts of a positive corporate culture that stands out from the competition. Contributing to the development of this culture is an obligation of all of the company's managers. The company proves its business reliability to its business partners with the quality of its products and services, by respecting all of the provisions of their contracts and the requirements of the quality management and environmental management system in accordance with the requirements of the ISO 9001:2015, ISO 14001:2015 and ISO IEC 27001: 2013 standards. All of the managers have the task of ensuring their consistent application.Read More
Who is Informatika
Popular Searches
Informatika
Informatika Corp
Informatika ad
Informatika Org Chart
Phone
Email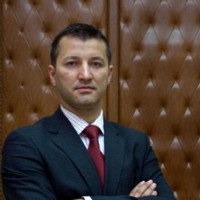 Predrag Vukovic
Chief Financial Officer
Phone
Email
Phone
Email
Phone
Email
Frequently Asked Questions regarding Informatika
Where is Informatika located?
Informatika's headquarters are located at 32 Jevrejska St, Beograd, 11000, Serbia
What is Informatika's phone number?
Informatika's phone number is +381 113215111
What is Informatika's stock symbol?
Informatika's stock symbol is INFM
What is Informatika's official website?
Informatika's official website is www.informatika.com
What is Informatika's Revenue?
Informatika's revenue is $1.4 Billion
What is Informatika's SIC code?
Informatika's SIC: 73,731
What is Informatika's NAICS code?
Informatika's NAICS: 54,541
How many employees does Informatika have?
Informatika has 3,677 employees
What industry does Informatika belong to?
Informatika is in the industry of: Advertising & Marketing, Business Services
What technology does Informatika use?
Some of the popular technologies that Informatika uses are: PHP, reCAPTCHA v2.0, Google Analytics, Google Font API
Who is the CFO of Informatika?
Informatika's CFO is Predrag Vukovic
How do I contact Informatika?
Informatika contact info: Phone number: +381 113215111 Website: www.informatika.com
What does Informatika do?
INFORMATIKA is dedicated to developing long-term partnerships when it comes to client relations. They are based on satisfying the users' needs at all stages of the service provision chain - from identifying all of the applicable legal and other requirements and committing to their satisfaction, to providing maintenance for the delivered products. H... ere product quality, the quality of communication with the client, and ongoing assistance are key for clearly defining their needs and requirements and so that products can be used in accordance with their intended purpose. The quality of the company's products is based on long-term partnerships with suppliers. The achieved market recognition and good reputation are maintained by the commitment and obligation of all employees to the constant improvement of their knowledge, awareness and high expertise in both the field of quality, environmental protection and information security, as well as to providing mutual assistance to each other in training. Teamwork, fast horizontal and vertical communication, a sense of belonging within the company, commitment to a common goal - the high quality and long-term satisfaction of users and the building of their trust in INFORMATIKA and its employees, are parts of a positive corporate culture that stands out from the competition. Contributing to the development of this culture is an obligation of all of the company's managers. The company proves its business reliability to its business partners with the quality of its products and services, by respecting all of the provisions of their contracts and the requirements of the quality management and environmental management system in accordance with the requirements of the ISO 9001:2015, ISO 14001:2015 and ISO IEC 27001: 2013 standards. All of the managers have the task of ensuring their consistent application.Read More
What are Informatika social media links?
Informatika Linkedin page
Is Informatika a public company?
Yes, Informatika is a public company and is traded under the symbol INFM